Tax Engine
Scale-up automated sales tax calculation
Octobat is the best solution for fast-expanding internet businesses from day-one to receiving thousands of payments per day. Let Octobat perform VAT/GST/Sales tax calculation to every electronic payment – automatically and in real-time.
Ensure accurate and automatic tax rate calculation, on every sale
Tax rules and boundaries are constantly changing. Tax rates can differ depending on the business location, the type of product and final consumer location. Octobat best-of-breed geolocation system recognises customers location, and tax evidences in order to match these to the right tax jurisdiction – in more than 30 tax zones.
Deliver the right tax rate for every item sold - get fully compliant and trusted by your customers.
How it works
Where is the customer located?
Octobat collects and stores three evidences: customer billing address, IP addresses, credit card or IBAN country code.
What is the product type?
Octobat is able to differentiate between physical and digital goods and deliver the right tax rate in accordance with the local and international tax rules.
Tax calculation often depends on the nature of the customer receiving the product or service. A distinction must be made between a taxable customer (B2B) and a non-taxable person (B2C).
Focus on your expansion, Octobat supports you around the world
Go internationally and sleep at night. We built Octobat to help businesses sell outside the borders and comply with international and country tax requirements - Tax Calculation supports more than 100 countries and we can activate more on demand.
Europe
Europe (specific tax countries)
Americas
APAC
Africa
Take care of your business, we keep you ahead of tax changes
Octobat transforms tax rules complexity into happy moments combining a robust technology and human expertise.
Sell globally, flag non compliance risk
Non compliance risk can come from all around the globe. Octobat helps you to identify transactions not fitting an existing tax zone or jurisdiction. Effortless flag data that represents a risk and take quick decisions in order to avoid non-compliance.
Luxembourg cuts e-book VAT to 3%
The e-book VAT rate for Luxembourg has been decreased from the standard rate of 17% to 3% as of January 1st, 2019.
Tax rules monitoring, ensured by Octobat
Octobat tax experts constantly monitor and detect international and national tax reforms so the system always applies the latest tax rule and rate.
Be focus in your growth, not taxes !
Audits, filing, tax returns? Bring it on!
No more negligence nor missing tax evidence during audits. Octobat helps you detect and remit your records to the fiscal authorities, and avoid the penalties.
Avoid inaccuracy at the moment of filing your tax returns! Speed-up with our ready to use VAT/GST/Sales Tax reports - at your fingertips.
Records retained and available
Every transaction is analyzed to extract the required pieces of evidence to identify the governing tax laws that apply, such as customer's VAT number, country of credit card, billing country, or purchase IP address.
Records are stored for a 10-year period and directly accessible in the application, ready at any time in case of audit. Your data is safe and sound in the cloud and replicated in case of server failures. We use Amazon Web Services servers within the European Union.
Woodworking Masterclasses
The investigator was entirely happy with how we are handling VAT and VAT MOSS with Octobat. Of course, your help is a big part of that. So, thank you very much for your help!
Joseph, Founder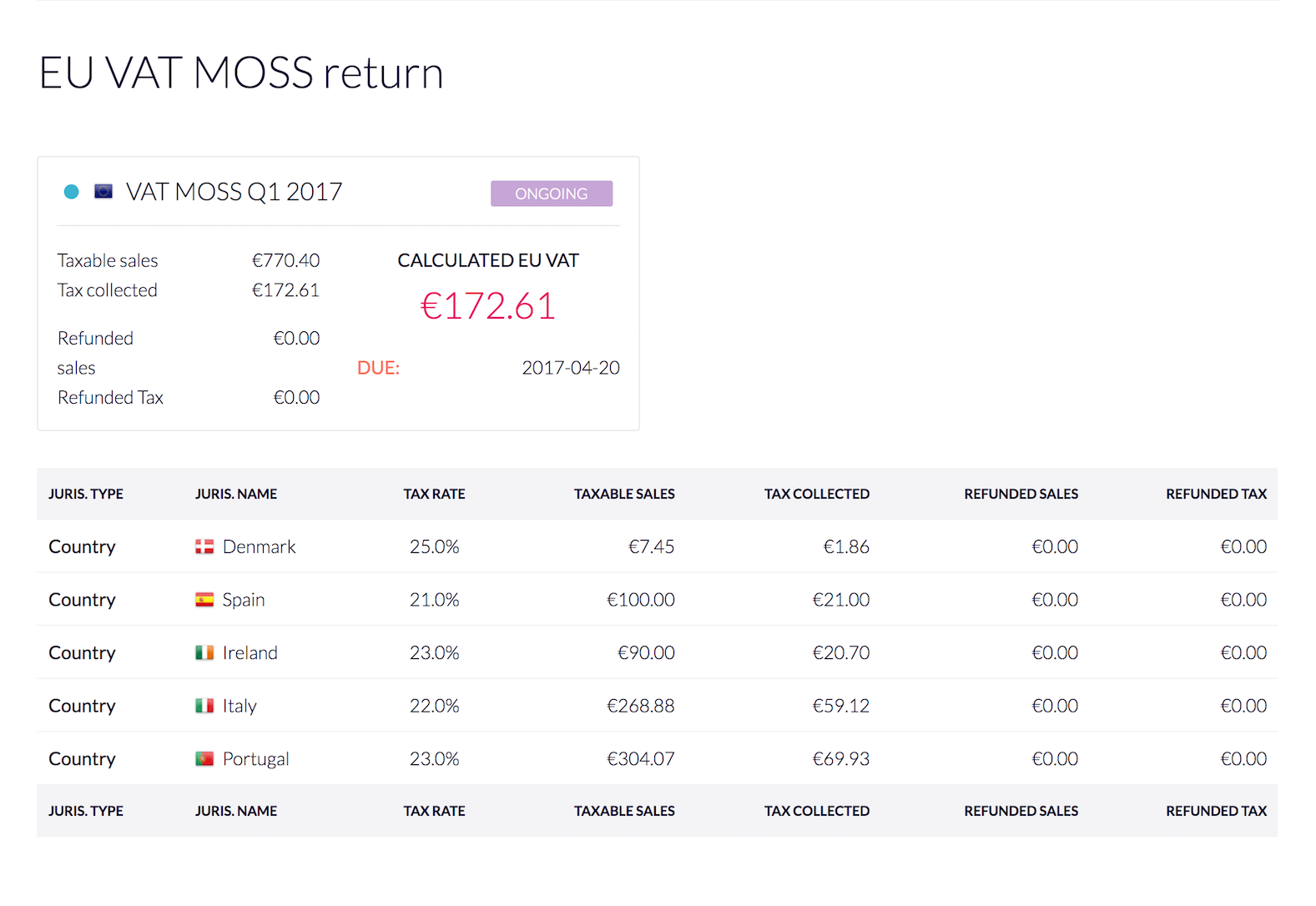 Automated tax statements and reports
Get the summary of the amount of taxes that you have collected . Octobat automates the generation of accurate and ready to use VAT/GST/Sales Tax reports - in order to improve your filing and tax returns.
Octobat tax reports reduce calculation errors, and ensure the right amount is declared to the right tax authority at the right time. Octobat direct integrations and API enables a real-time synchronization between your transactions and your VAT/GST/Sales Tax reports - speed up your accounting tasks.
Customers geolocation
Map the exact customer location with Octobat best-of-breed geolocation system - ensure customer location as evidence
Tax ID validation
Octobat validates Tax ID in order to apply VAT exemptions in some cases. Some tax authorities, as the European VAT Directive, prescribes tax exemptions when a registered business sells to other intra-community business with a valid VAT number.
Thresholds tracker
Octobat helps you to track your transactions and compare them against the country's threshold - this should alert you and give you time to decide how to manage taxes in a given country or tax region. Note: you should consider this information as indicative and consult a professional tax adviser to ensure compliance.
PSP Integrations
Use our direct integrations to add accurate tax calculation on top of your payment provider stack. Use our RESTful API (link to doc) to connect with any other.
Real-time pricing update
Charging indirect taxes during the oder process is especially tricky. Octobat helps businesses automatically calculate and apply VAT/GST/Sales Tax in real-time. Learn more here (tax_evidence)
Export your data
Export your tax and transactions data in a matter of clicks. Sort the data by date range and retrieve specifically what you need - speed up your filing and returns.
Soundiiz is using Octobat to calculate sales taxes for hundreds of thousands transactions every year, in various contexts all around the world, and facilitate their filings.
Add effortlessly automated tax calculation on top of your payment stack and comply with VAT, GST, and Sales Tax
Focus in your expansion, improve your product, and bring happiness to your customers. Rely on Octobat to comply with tax requirements through automation.
Tax calculation
Automated calculation
Product type setup
Tax rules monitoring
VAT number validation
Threshold tracker
Tax reports
VAT, GST and sales tax
Webhooks
Transactions exports
Integrations
Stripe
Gocardless
Clickfunnels
Zapier
RESTful API
Tax regions
EU-28
Switzerland
Norway
Cyprus
United States
Canada
Australia
New Zealand
Ready to automate your sales tax calculation?
Create an Octobat account for free or contact us!