Beanie
Build effortless dynamic payment pages with Beanie – secure and SCA-proof
A robust and customizable hosted checkout that improves your users' payment experience by ensuring real-time tax calculation and supporting SCA and PSD2 requirements.
Put the power of real-time tax calculation on your checkout flow like a beanie
Until now, adding taxes on top of the final price was pain in the neck. Beanie helps you to dynamically calculate tax based on transactions details such as the products types, shopper's location, and tax ID. Bring the right tax rate, item-by-item.
Yay! The order is a success. So, you succeeded to use Beanie as a test. Satisfied? It is really simple to implement, take a look at the documentation.
It seems that you bring Beanie to cancel the order. Re-try to succeed!
Build a SCA-proof checkout and get VAT rates right away
European business accepting debit and credit card payments will be impacted by the new Strong Customer Authentication (SCA) rule as of September 14, 2019. Use Beanie to give your shoppers a great checkout experience and prevent declined payments by relying on theSCA-ready products.
Build your own checkout page
Create your own checkout form that looks clean, sharp, and coherent with your own design. Use Beanie's pre-built visual components and customise your checkout form. Decrease input errors and improve your conversion by giving your customers a way to fast and friendly entry the payment information.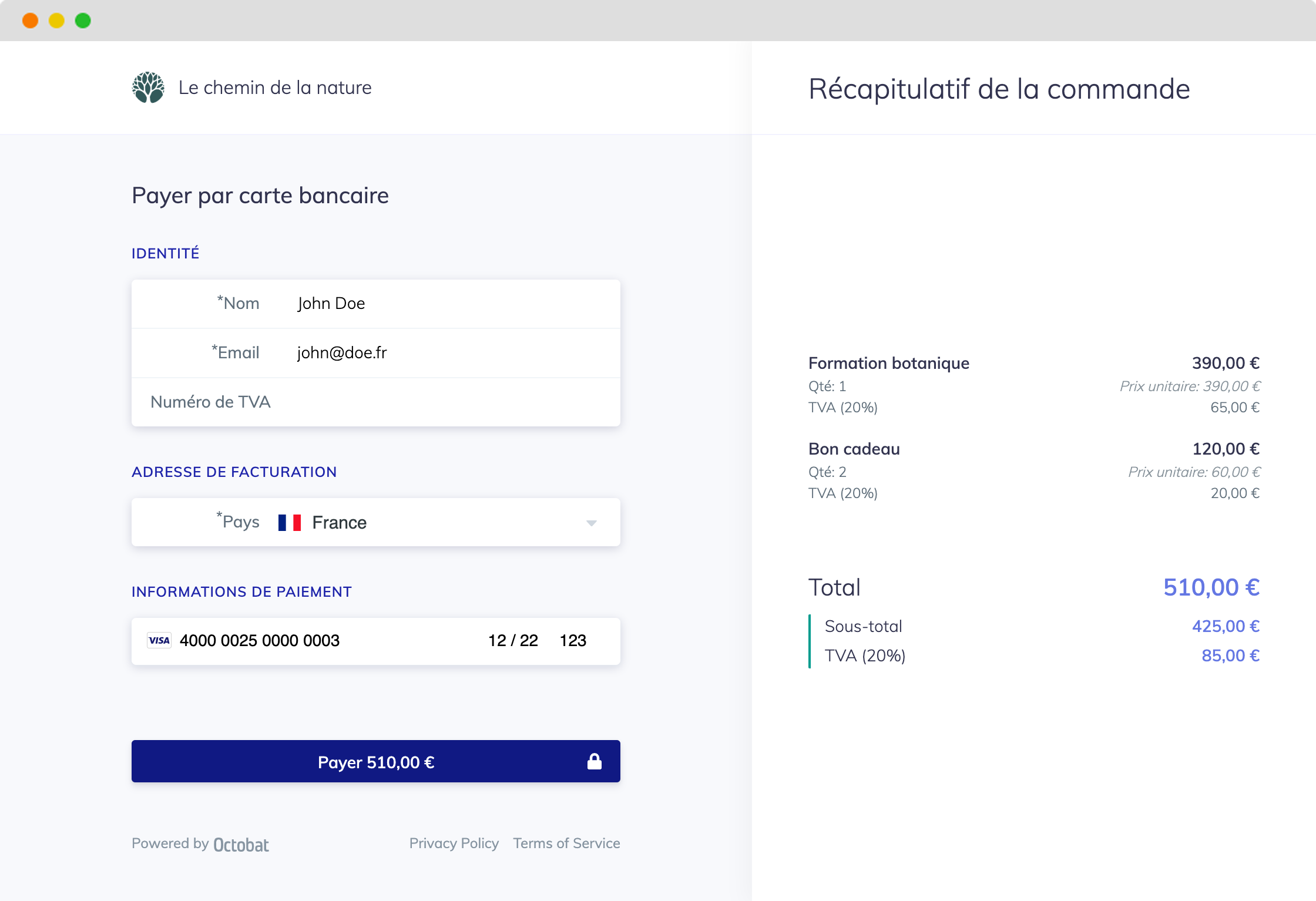 Akesio "I can't thank enough Octobat, they saved my life! It was very easy to install, even for a non techie like me. Love the product, if you want to have Stripe installed within minutes, go for it!"
Walk through any integration path
Your payment provider gives you the infrastructure, Beanie provides everything you need to quickly and seamless built your customized payment hosted page.
As your business grows, Beanie helps you drive it better:
Multiple Items management
Recurring and on-time payments
SCA compliant
Tax rates at checkout
Dynamic price update
Coupons management
Language recognition
Automated invoice delivery
Transparent and simple pricing aligned with your success
Starter
Affordable entry point for fast-growing businesses.
No installation fees
Pay only what you use
Scale
Designed for businesses at scale with large volume of transactions.