Beanie Client Quickstart
Use Beanie client integration to sell products and subscriptions defined in your Stripe Dashboard.
Before starting:
How to create a Beanie hosted payment page:
Connect your Octobat and Stripe accounts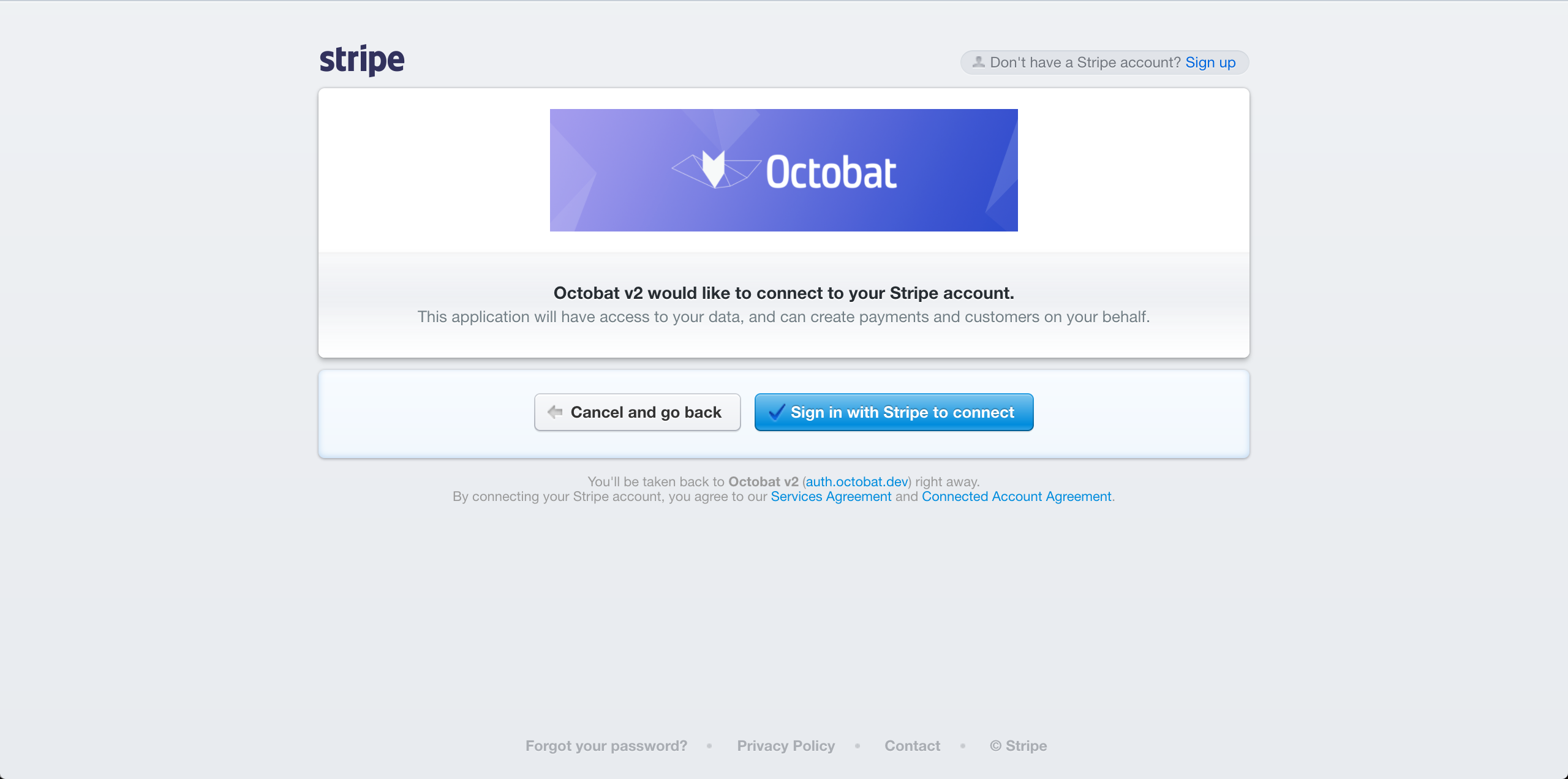 During your registration, you will be able to connect your Stripe account. At this moment, Octobat asks you read and write accesses to your Stripe account.
Testing
Octobat provides a test environment which allows you to test all Octobat features unlinmited. You'll be able to make API calls, sync your Stripe Test environment and generate data reports or exports.
Using Beanie within the test environment is easy. You just have to deal with your Octobat test or live API publishable key.
Step 1: Configure products and plans in your Stripe account
Beanie works only with the Stripe payment provider. Stripe provides a product management feature that allows you to create plans for recurring payments or product for one-time purchase.
You'll be able to create these products on your Stripe Dashboard. Be sure to be in the correct environment when you create your Stripe products.
Step 2: Configure your Beanie
Go to the Octobat Configuration. Then, go to Collect payments and Beanie.
Here you'll be able to "add a Beanie Configuration".
The form above allows you to change the design button and to paramater the Beanie hosted payment page.
Step 3: Add Beanie to your website
To use Beanie on your website, you must add a snippet of code that includes the desired SKUs or plan IDs. You can use the Dashboard to generate the necessary code, or you can write it yourself.
In the Beanie Configuration, you'll be able to use a configuration with Beanie. Click the "Use with Beanie" button. It will display a popup.
Enter Stripe SKUs product or Stripe plan IDs. Then, click the "Generate code integration" button in order to generate a code snippet that you can add to your website.
Copy and paste the snippet into the body of a web page to add a payment button that redirects the customer to Beanie.